Another seller who has made the effort to upload a YouTube video of his bike for sale. It enhances the listing ten-fold….
From the seller: "This bike has arrived on my most recent container so not been here long.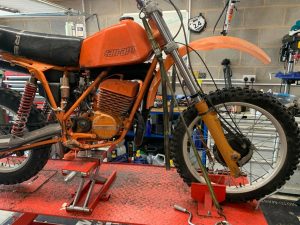 I have been working through the bikes that had been pre ordered – this one had been pre ordered by a guy but literally the weekend before this was ready to collect he bought another one so didn't have the cash to go through with the purchase so this is now back on the open market
These CanAm's are always popular as they come from the factory with both a top of the line Rotax engine but also the best suspension that money could buy.  They are literally a close to a factory bike as you could get from a showroom.
Obviously needs a bit of a tidy up as most of my bikes do.
2 issues with this one (as described in the video),
has been upgraded to a flat slide carb and wrong throttle cable so difficult to make run – i have had it running but needs new cable or to modify the one on it.
has had the kick start (i think) too far round and it's been hitting the clutch cover which has then obviously become damaged – someone has covered it in some kind of epoxy or liquid metal – needs new cover really
Like i say the bike has run, has good compression, sparks good and everything looks generally good as a restoration start point.
will make great and very competitive race bike & or collectors item."