It's not often that you'll see such a pristine example of the Yamaha SS50 for sale, but the seller states that this particular bike comes from the collection of the chairman of the FS1-E Owner's Club, so we imagine it's had the best life of any SS50!
The Yamaha FS1-E is one of the most sought after bikes we see on a weekly basis and the Super Sixteen is what kicked it all off and is the epitome of small-engine cool!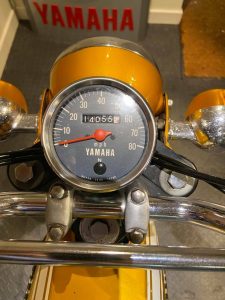 This low mileage SS50 has matching frame and engine numbers and is on its original registration number. Unlike many you see for sale, this is a UK bike, not a French import.
The seller states that the this isn't a restored bike, but that everything, apart from the tyres and battery, is factory-fitted.
This really is a special bike and it would be interesting to see what the new owner does with it; ride, or display? What would you do?
At the time of writing, bidding had already started strongly, although the reserve hasn't been met. With three days to go, will this Yamaha SS50 sell? We hope so.
If you're interested in this bike, it's for sale on eBay and the auction is set to end on 5th August, 2021. Details below…and we wish you good luck with your bid!
For Sale – 1973 Yamaha SS50
Listing ended – Please see below for similar